Custom Font Sterling Silver Monogrammed Cufflinks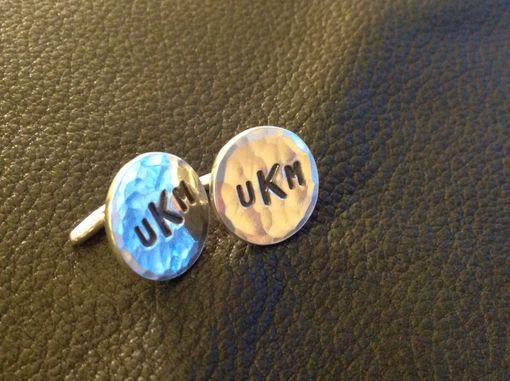 *********HELLO MY DEAR BUTTONNEERS! I WILL BE GONE FOR A FEW WEEKS AND MY DELIVERY TIMETABLE WILL BE PUSHED OUT. I will be closed from mid May to the end of June for some travel and family business. If you have an item that you need before mid May, please order by April 21st. I will still be communicating with customers and taking orders while I am closed down, but anything ordered after April 21st will ship Mid July or later. Thank you for your understanding! Jenny********


Sterling Silver cufflinks with Sterling Backs

Strong, bold, and contemporary, these particular cufflinks have a clear block letter monogram and a hammered finish. But I can make them in other fonts - a typewriter Courier, a classic Serif, even (*shudder*) Comic Sans ; ). Let me know your taste and we can go from there.

These are a very special gift for a twenty fifth anniversary, a graduation, or any time you want to give something of lasting sentiment and value!

Please let me know which letters you would like, and what order:

v G w Last name initial larger and in center, i.e..
Vernon Watson Gilliam

V W G All large letters
Vernon Watson Gilliam

Please allow about two to three weeks for fabrication.


PLEASE NOTE IF YOU LIVE IN TEXAS: THE CUSTOM-MADE QUICK ORDER FEATURE DOES NOT ALLOW FOR SALES TAX. IF YOU LIVE IN TEXAS WE WILL NEED TO AMEND THE PROPOSAL TO ADD 8.75% TX SALES TAX BEFORE PROCEEDING. THANK YOU!
All of our products are handmade
by expert makers.