Signet Ring Mens Ring Family Crest Ring Coat Of Arms Ring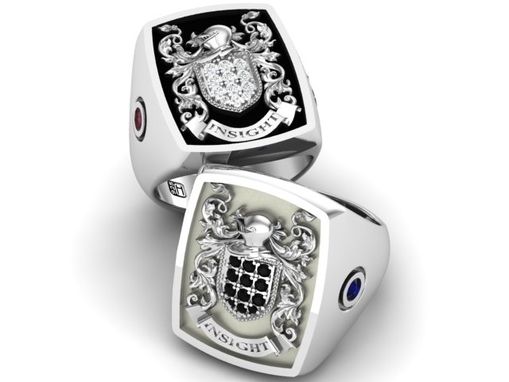 This is a highly detailed heraldic men's ring that can be personalized. You can have your name engraved on the banner.

1. Material-sterling silver (925)
2. Stone-CZ's
3. Message me the ring size
4. Message me the letters you would like engraved on the banner/ribbon I will need to check if there is enough room if the name is long.
5. Message me if you would like different CZ color stones

I use lost wax casting process to make each piece made to order.
This can also be customized with different symbols and or materials. Contact me for details. Prices and making time will vary depending on complexity of design and materials used.
All of our products are handmade
by expert makers.
Omar M.'s review

• Mar 13th 2017

My project proposal was a very arduous one at best because my family coat of arms is very intricate and to put that on a ring was going to definitely present itself as a feat. Nonetheless, Kay and 3dheraldry took the project on full speed ahead. From the onset of taking the project on, Kay was very explicit with the timelines and steps to move forward in making my ring so that I was not in the dark. She set my expectations and moved forward communicating each step of the way. I actually had a change in ring size for my project but that didn't impede her quality nor timeliness to communicate. She immediately changed gears to accommodate for my change in scope and still came in on time expected to complete my ring. Once payment was made, she sent me the tracking number to provide me visibility when to expect its' arrival and once it arrived a beautiful custom made ring with a handwritten thank you note made all the difference! Its those little touches that make customers want to share their pleasant experience and return for more products. Thank you Kay for being 110% on this project and for making what I hope will be a treasured keepsake for my grandchildren's grandchildren as their family coat of arms that has been in my family since 1224.

Great job!

Jon M.'s review

• Jul 26th 2016

I am very happy with the final product. It is exactly what I ordered and the size is perfect. Kay communicated with me throughout the entire project, updating me with the progress including pictures. I will certainly use 3dheraldry in the future.

adel m.'s review

• Jun 17th 2016

Kay was very professional, very helpful and very artistic. She takes her time to do the job right, which I like. The ring came out excellence. Thank you Kay.

Kevin H.'s review

• May 14th 2016

My order with 3dheraldry came out exactly as I had envisioned it. I was kept well informed throughout the entire process, plus answered any other questions I had in regards to the project. I would recommend 3dheraldry to anyone out there.

Chile w.'s review

• Dec 21st 2015

Search no more for your custom jewelry needs! 3dheraldry is amazing! They took my basic line art design and brought it to life. Also was a super fast delivery time, the turn around was needed for holidays and they met this request with no problem. This purchase gives my new family an official family crest that will be around for generations to come. I look forward to working with this company in the future as my family grows. VERY HAPPY!!