Turquoise And Silver Plated Rounds Statement Necklace And Earrings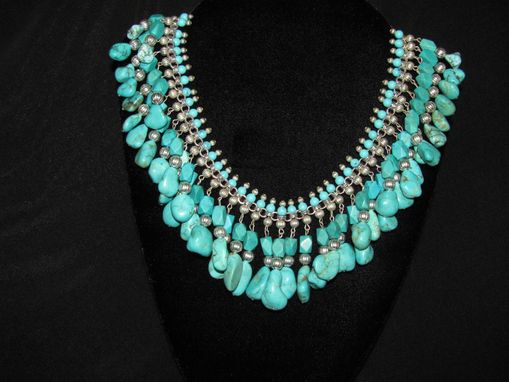 The stunning necklace is very powerful and impactful. Six rows of concentric beads are woven through silver plated chain and graduate in size from 4 mm to medium large turquoise nuggets. The major influence in the design is Egyptian but this contemporary design adds movement it is not rigid like Egyptian necklaces of antiquity. The 6 mm. and 8 mm. silver plated beads are ribbed. All turquoise beads are genuine chalk turquoise except for the tiniest ones above the chain. The earrings are simple drops to compliment not dominate the overall effect.
All of our products are handmade
by expert makers.
Pamela G.'s review

• Jun 9th 2018

This was the first time that I have purchased from Custom Made. Marsha made the process very easy and enjoyable. She was a good communicator and a gifted artisan. My necklace that she designed was stunning. Thank you!